Cyberspace is evolving constantly and presenting businesses with discerning new opportunities. Modern businesses strive to adopt new technologies quickly While these technologies may improve business outcomes and productivity, they may also bring inadvertent consequences and unanticipated risks that can have a potentially negative impact.
 The global cost of cybercrime is likely to go up from $8.44 trillion in 2022 to $23.84 trillion by 2027, as per the estimates from Statista's Cybersecurity Outlook. This cost includes theft of intellectual property, embezzlement, damage and destruction of data, fraud,  post-attack disruption to the normal course of a business, and more. As more individuals embrace the digital landscape for both personal and professional purposes, the risk of hackers exploiting vulnerabilities also grows, presenting a greater potential for cyberattacks.
Fig. 1. Expected Growth in Cybercrime
Image Credit: statista.com
Cyber attacks are here to stay
Even seemingly innocuous actions in the cyberworld can have devastating consequences. Something as simple as an employee clicking a link in a spam email can inadvertently pave the way for more sophisticated phishing attacks. It highlights the importance of maintaining a vigilant approach to cybersecurity and the need for comprehensive measures to mitigate potential risks. Organizations must prioritize employee education and awareness, coupled with robust security protocols, to safeguard against these evolving threats. By taking proactive steps to foster a strong cybersecurity culture and implement effective defense mechanisms, businesses can significantly reduce their vulnerability to cyberattacks and protect their valuable assets and data.  In the contemporary online landscape, danger lurks in almost every email and link. Unless you have a proper cyber security strategy, cyber risks can have catastrophic effects on your business.
The risk of cyber-attacks is at an all-time high, with the world becoming more interconnected with consistent technological advancement. Cybercriminals are steadily changing and evolving their methods of penetrating the main systems of enterprises. Organizations of all types and sizes need to focus on building cybersecurity resilience to safeguard their systems from modern hackers.
Creating a cyber security  strategy
Building a resilient cybersecurity strategy is critical for business continuity in the current age. It can offer many advantages beyond simply increasing an enterprise's security posture and cutting down the risk of exposure to its vital infrastructure. A company that possesses strong and comprehensive cybersecurity measures would be well-positioned to enhance the value it delivers to clients and customers, ultimately gaining a competitive edge through proficient and efficient operations. Robust cyber resilience is important for developing an enterprise-wide risk-based strategy.
Seeking the support of Managed Security Service Providers (MSSPs)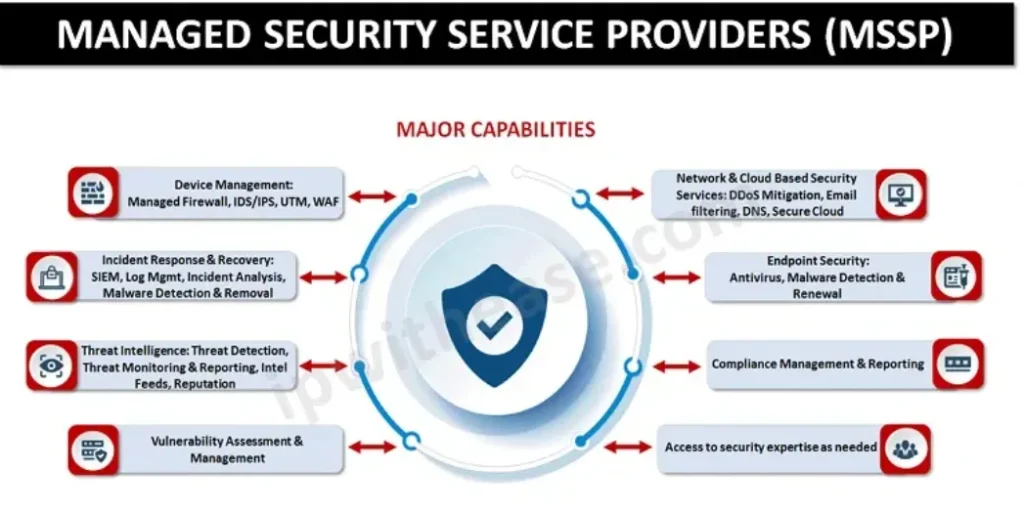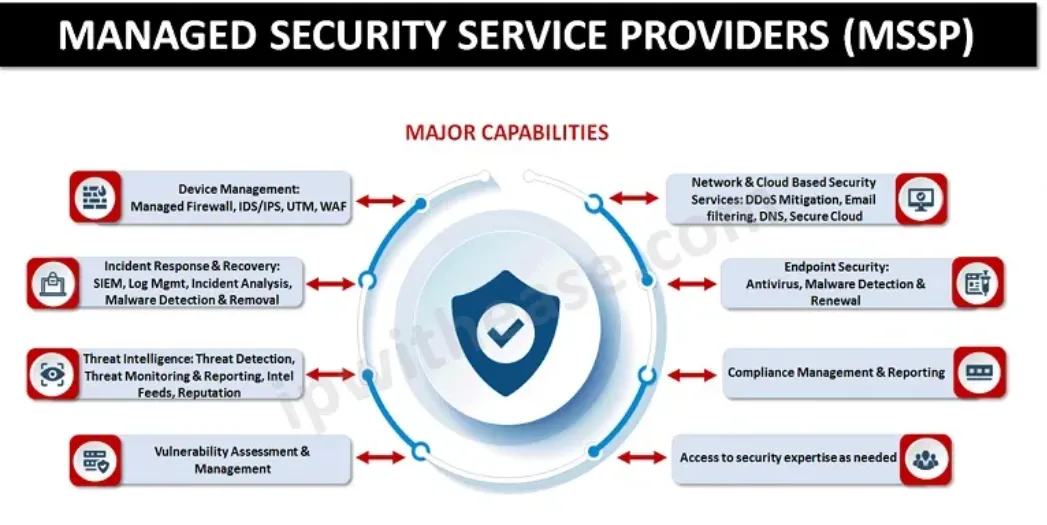 Fig. 2: Capabilities of MSSPs
Image credit: ipwithease.com
In order to keep up with the swift progression of cyberattacks and hacking methods, organizations must adopt comprehensive security measures to safeguard their data against unauthorized access and theft. Engaging the services of a proficient managed security service provider (MSSP) with extensive expertise in cybersecurity is an excellent approach to achieving this objective.
Many businesses today need 24×7 system monitoring owing to their growing reliance on sensitive data and cloud technologies. MSSPs are perfectly positioned to provide this ongoing cyber risk management support and ensure round-the-clock monitoring. Typical duties of such third-party security service providers tend to range from penetration testing, security, compliance audits, as well as intrusion detection.
How can managed security services help?
Improved security posture: You can competently reduce the exposure of your business to cyber threats by outsourcing your cyber security to a reputed managed security service provider. MSSPs are staffed with a group of experts who are trained particularly in identifying and mitigating cyber threats and attacks. They will monitor your systems constantly for signs of any threats and take action in accordance.
Increased efficiency: You can easily free up your internal IT staff so that they can work on other projects important to your business by easily seeking assistance from a good MSSP. They would take care of  day-to-day  activities linked to protecting your systems, like monitoring system logs, configuring firewalls, installing updates and patches, and so on.
Reduced expenses: Availing managed security services for creating and executing a robust cybersecurity strategy is way more affordable than hiring in-house security professionals. The MSSPs would be able to manage all the software and hardware required for protecting your systems, but can be too expensive if bought outright by your business.
To wrap up
Handling the security operations of a business can be quite time-consuming and resource-intensive. It can, in fact, divert attention from your core business functions. Choosing to outsource managed security services can help your company focus on its strategic initiatives and core competencies while leaving more demanding and complex security responsibilities to the experts. Partnering with companies like STL Global Services will allow your business to allocate resources efficiently, thereby driving superior growth, innovation, and productivity.
MSSPs are considered to be pretty successful solutions for businesses, as they contribute to the protection of vital corporate digital assets, networks, and password files. They offer a range of dependable and cost-effective security solutions that would help you secure your sensitive information and, as a result, your business.
FAQs
1. Are managed security services expensive?
No. Managed security services can actually reduce both the complexity and cost of cyber security. MSSPs would provide threat intelligence, a security operations center (SOC), and other security solutions based on your specific requirements at an affordable fee. Your business can enjoy enterprise-grade security services through MSSPs without spending too much money.
2. Why hire an MSSP if I already have an IT service provider for my business?
The majority of IT service providers largely depend on the break/fix aspect of IT, along with the installation of hardware and software. Such services generally do not include network security. MSSPs offer more comprehensive and robust security solutions than traditional IT providers, like real-time threat detection, incident analysis, and vulnerability assessments. MSSPs offer an extra layer of protection that you may not receive from your IT provider.
3. Do small and medium size businesses need MSSPs?
Yes. Small businesses account for 43% of cyberattacks. Moreover, on average, SMBs, or small and medium-sized businesses, lose $25,000 due to cyberattacks. This basically means that smaller businesses need as much security as larger enterprises, if not more. No company can regard itself as a low-value target in the current age.
4. How much are MSSPs expected to grow in the future?
The Global Managed Security Services Market was valued at US$27.7 billion in 2022. It it is projected to grow at a CAGR of 12.8% during the period of 2023-2033. Increased regulatory compliance, protection of industry reputation, and management of emerging threats are among the prime reasons for the global investment in managed security services.